Homes For Sale O'Fallon IL & Community Information
---
Close to Scott Air Force Base, O'Fallon is located in St. Clair County, Illinois, and is home to over 28,000 residents. As part of the St. Louis Metropolitan Statistical Area, O'Fallon is a fast growing community and is the third largest city in the Metro-East region.  There are a limited number of homes for sale O'Fallon IL and they move quickly in this town.  The air force base has helped bolster the population with military and federal personnel, contractor, and retired military residents.
O'Fallon traces its beginnings to 1854, when city plots were sold at a public auction. It was named after a wealthy gentleman from St. Louis, Colonel John O'Fallon. O'Fallon was incorporated as a village in 1874, and became a city government in 1905. The city has grown steadily since then, especially since the 1980s. Subdivisions such as Thornbury Hill, Fairwood Hills, Nolin Creek Estates, Forest Hills, Deer Creek, and Fairwood East sprang up during the 1990s as a result of the expansion of Interstate 64.  Contact The Ellerbrake Group if you are looking for homes for sale OFallon IL!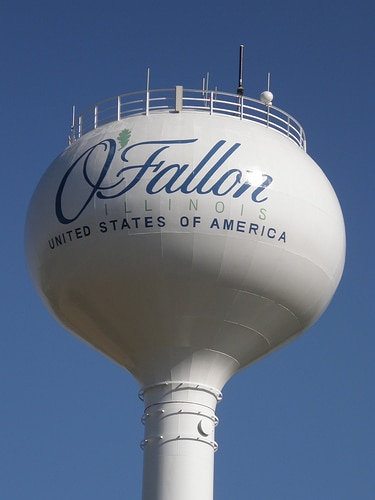 ---
O'Fallon Illinois Shopping & Dining Venues
Residents of O'Fallon have a great selection of places to shop and eat. O'Fallon Plaza offers a great variety of stores, along with a Cinema 15. St. Clair Square is an enclosed shopping mall just outside of O'Fallon in Fairview, and features staples such as JC Penny, Macy's and one of the best food courts in the area. Located in Oldtown O'Fallon is Fezziwig's Marketplace, which features a garden courtyard, where you can drink a cup a tea or glass of wine after you shop for locally grown produce and items.
When it comes to finding great food in O'Fallon, the selection is large and varied. If you want the best NY style pizza, then look no farther than Peel Wood Fired Pizza, which not only serves up amazing pizza, but other wood fired delights, entrees, and succulent desserts. For the best Italian food around, there's Bella Milano, where they blend "unique dishes with artistic presentation all in a modern, yet inviting atmosphere." The Egg & I is the place to go for amazing breakfasts and friendly service. Also be sure to try top O'Fallon restaurants like Hop House Southern Eatery, The Mansion, Syberg's, and Aroy Thai Cuisine, just to name a few favorites.
---
Parks & Recreation of O'Fallon Illinois
O'Fallon boasts a number of fine parks for the enjoyment of its residents. Community Park features a number of pavilions and an outdoor kitchen for you to rent for your next gathering, complete with baseball fields, basketball courts, playground, tennis courts, pool, walking paths, and even free WI-FI. Hesse Park also features pavilions, along with a playground and pickle ball court. Or you can spend time with your canine friends at the Dog Park off-leash area. And if your kids want to skate, there's a great skate park on N Seven Hills Rd. Other great parks in O'Fallon include Family Sports Park, Thoman Park, Rock Springs Nature Park, and Savanna Hills Park.
---
O'Fallon IL Educational Facilities
Students living in O'fallon attend schools in the O'Fallon Community Consolidated School District 90, along with O'Fallon Central School District #104, and O'Fallon Township High School District #203. District 90 includes 5 elementary schools – Delores Moye, Estelle Kampmeyer, J. E. Hinchcliffe Sr., Laverna Evans, and Marie Schaefer. There are two junior high schools in District 90 as well, namely Edward A. Fulton and Amelia V. Carriel. O'Fallon Township High School is in District 203.
Students also have the choice to attend a number of fine private schools, which include St. Clare Catholic School, Discovery School, New Enterprise Academy, and First Baptist Academy.
---
Houses For Sale In O'Fallon IL
The Ellerbrake Group does not only help you buy a house but sell your house as well. Feel free to reach out to us when you plan to list your houses for sale in O Fallon IL.  Bypassing the traditional ways, we use modern real estate selling tools to get the maximum market attention to your needs. Being in the industry for over 30 years, we have enough market experience to drive positive results to your needs.
Every agent with The Ellerbrake Group possesses the experience of working with different aspects of the real estate business to be the best realtor O'fallon IL families have ever worked with.
We start the selling process weeks before your listing goes up for sale in the market.
Rest assured, we will bring qualified, informed,  and only interested buyers for your houses for sale in O'Fallon IL.
Our goal is to maximize your home's value and to ensure you are happy with the process.
Our agents have previously proven marketing plans that speed up the selling process. Our team has specialized listing & marketing agents who will vigorously market your property.
The real estate market is very competitive and if you do not market your property wisely, your listing will get lost in the churn of the market. Only listing your houses for sale by owner in O'Fallon IL will not suffice. Having us by your side will speed up your selling process and get you the best price.