Homes For Sale O'Fallon IL & Community Information
---
Close to Scott Air Force Base, O'Fallon is located in St. Clair County, Illinois, and is home to over 28,000 residents. As part of the St. Louis Metropolitan Statistical Area, O'Fallon is a fast growing community and is the third largest city in the Metro-East region.  There are a limited number of homes for sale O'Fallon IL and they move quickly in this town.  The air force base has helped bolster the population with military and federal personnel, contractor, and retired military residents.
O'Fallon traces its beginnings to 1854, when city plots were sold at a public auction. It was named after a wealthy gentleman from St. Louis, Colonel John O'Fallon. O'Fallon was incorporated as a village in 1874, and became a city government in 1905. The city has grown steadily since then, especially since the 1980s. Subdivisions such as Thornbury Hill, Fairwood Hills, Nolin Creek Estates, Forest Hills, Deer Creek, and Fairwood East sprang up during the 1990s as a result of the expansion of Interstate 64.  Contact The Ellerbrake Group if you are looking for homes for sale OFallon IL!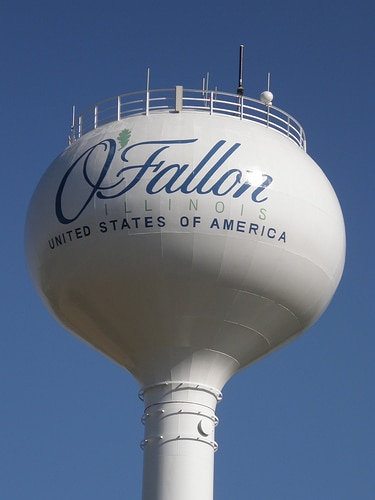 ---
Homes For Sale O'Fallon Illinois Shopping & Dining Venues
Residents of O'Fallon have a great selection of places to shop and eat. O'Fallon Plaza offers a great variety of stores, along with a Cinema 15. St. Clair Square is an enclosed shopping mall just outside of O'Fallon in Fairview, and features staples such as JC Penny, Macy's and one of the best food courts in the area. Located in Oldtown O'Fallon is Fezziwig's Marketplace, which features a garden courtyard, where you can drink a cup a tea or glass of wine after you shop for locally grown produce and items.
When it comes to finding great food in O'Fallon, the selection is large and varied. If you want the best NY style pizza, then look no farther than Peel Wood Fired Pizza, which not only serves up amazing pizza, but other wood fired delights, entrees, and succulent desserts. For the best Italian food around, there's Bella Milano, where they blend "unique dishes with artistic presentation all in a modern, yet inviting atmosphere." The Egg & I is the place to go for amazing breakfasts and friendly service. Also be sure to try top O'Fallon restaurants like Hop House Southern Eatery, The Mansion, Syberg's, and Aroy Thai Cuisine, just to name a few favorites.
---
Parks & Recreation of O'Fallon Illinois
O'Fallon boasts a number of fine parks for the enjoyment of its residents.  There are plenty of things to do in O Fallon IL.  Community Park features a number of pavilions and an outdoor kitchen for you to rent for your next gathering, complete with baseball fields, basketball courts, playground, tennis courts, pool, walking paths, and even free WI-FI. Hesse Park also features pavilions, along with a playground and pickle ball court. Or you can spend time with your canine friends at the Dog Park off-leash area. And if your kids want to skate, there's a great skate park on N Seven Hills Rd. Other great parks in O'Fallon include Family Sports Park, Thoman Park, Rock Springs Nature Park, and Savanna Hills Park.
---
Homes For Sale O'Fallon IL Educational Facilities
Students living in O'fallon attend schools in the O'Fallon Community Consolidated School District 90, along with O'Fallon Central School District #104, and O'Fallon Township High School District #203. District 90 includes 5 elementary schools – Delores Moye, Estelle Kampmeyer, J. E. Hinchcliffe Sr., Laverna Evans, and Marie Schaefer. There are two junior high schools in District 90 as well, namely Edward A. Fulton and Amelia V. Carriel. O'Fallon Township High School is in District 203.
Students also have the choice to attend a number of fine private schools, which include St. Clare Catholic School, Discovery School, New Enterprise Academy, and First Baptist Academy.
---
Houses For Sale In O'Fallon IL
The Ellerbrake Group does not only help you buy a house but sell your house as well. Feel free to reach out to us when you plan to list your houses for sale in O Fallon IL.  Bypassing the traditional ways, we use modern real estate selling tools to get the maximum market attention to your needs. Being in the industry for over 30 years, we have enough market experience to drive positive results to your needs.
Every agent with The Ellerbrake Group possesses the experience of working with different aspects of the real estate business to be the best realtor O'fallon IL families have ever worked with.
We start the selling process weeks before your listing goes up for sale in the market.
Rest assured, we will bring qualified, informed,  and only interested buyers for your houses for sale in O'Fallon IL.
Our goal is to maximize your home's value and to ensure you are happy with the process.
Our agents have previously proven marketing plans that speed up the selling process. Our team has specialized listing & marketing agents who will vigorously market your property.
The real estate market is very competitive and if you do not market your property wisely, your listing will get lost in the churn of the market. Only listing your houses for sale by owner in O'Fallon IL will not suffice. Having us by your side will speed up your selling process and get you the best price.
Houses For Sale in O'Fallon IL
Are you looking for a new home in O'Fallon, Illinois? If so, you're in luck! O'Fallon is one of the most desirable areas to live in the state. Houses for sale here range from cozy starter homes to luxurious estates. Whether you are searching for your first family home or an investment property, there's something perfect for everyone here. With its vibrant culture and a strong sense of community, O'Fallon is sure to offer residents all they need and more. Read on to learn more about why this charming city should be your next destination!
Advantages of Living in O'Fallon
O'Fallon, Illinois, is a great place to live and raise a family, especially if you want to stay close to St. Louis. Homes for sale in O'Fallon, IL, are ideal for those who need easy access to the city while still enjoying the comfort of suburban living. Proximity to the town is just one of the many advantages of living in O'Fallon. Homes for sale in this area offer mild winters, ensuring that outdoor playtime and other activities are pleasant year-round. Homes here also have access to excellent schools, great shopping, a friendly business climate, and excellent recreational opportunities. From biking trails to farmers' markets, O'Fallon offers something for everyone.
In addition to its attractions, Homes for sale in O'Fallon IL, also provide a prime location on the banks of the mighty Mississippi River. This riverfront property offers breathtaking views and plenty of possibilities for outdoor activities. It's also conveniently close to Lambert International Airport, making it an ideal home base for busy professionals. Homes for sale in O'Fallon offer all the amenities of a large city but with a small-town feel. Homes come in all styles and sizes, from traditional single-family homes to stylish townhomes and condos. Houses for sale in O'Fallon, IL, are perfect for families, empty nesters, first-time homebuyers, and retirees.
Types of Houses for Sale in O'Fallon IL
O'Fallon, IL, is a great place to buy a home, and there are plenty of houses for sale in the area. In O'Fallon alone, you can find various housing types that suit many lifestyles.
Whether you're looking for new construction or prefer historic charm, you'll be able to find a house that fits your needs.
Single-family homes
Single-family homes are the most popular type of house in O'Fallon and come in all shapes and sizes. These homes are ideal for a small family or an individual looking for a starter home. Additionally, these houses tend to be more affordable than other housing types. Multi-family homes are great for those who want to invest in property and are interested in renting out rooms or apartments. Homes like duplexes, triplexes, and fourplexes provide an excellent opportunity for rental income.
Townhouses and condos
Townhouses and condos are great options for those who want to avoid the responsibility of a single-family home. These housing types provide an affordable way to live in O'Fallon with all the necessary amenities. Townhouses are located in mixed-use developments, while condos are more like apartments with the added benefit of ownership.
New construction homes
New construction homes are the best properties for people who want to move into brand-new homes. These homes are built with modern comforts and energy-efficient features, so you'll be able to find one that fits your needs perfectly. This type of home also comes with various customizable features to make it yours.
Luxury homes
Luxury homes are an excellent choice for those who want to move into a beautiful, luxurious property. These properties are built with all the bells and whistles: high-end appliances, grand staircases, marble countertops, and much more. Homes like these come at a premium price, so you'll have to be prepared to pay a bit more for the luxury.
Real Estate Market Trends in O'Fallon IL
The real estate market in O'Fallon, IL is an attractive housing option for many people. Homes are available at competitive prices, and there is a wide variety of properties to choose from. The area has low crime rates and excellent schools, making it a desirable option for families looking to purchase a home.
Home values in O'Fallon have increased steadily over the past few years, and the trend is expected to continue. Due to market appreciation, homes purchased a few years ago are sold at significantly higher prices. This means that if you are looking for an investment property or your first home, O'Fallon is an excellent option.
Conclusion
The Homes For Sale In O'Fallon, IL, offer a great variety of housing options and attractive prices. Whether you're looking for a single-family home, townhouse, condo, or luxury estate, the city has something to fit your needs. Its low crime rates and excellent schools make it an ideal location for families looking for a new home. Take advantage of this superb opportunity to own property in O'Fallon, IL, today!
Here at The Ellerbrake Group, we are committed to helping you find your dream home in O'Fallon. We understand the importance of finding a property that fits your budget and lifestyle needs, which is why we provide only the best Homes For Sale In O'Fallon IL. Contact us today to discover how we can help you make your real estate dreams come true.