Belleville, Illinois Real Estate & Community Information
---
Located in St. Clair County, Illinois, is the "Beautiful City" of Belleville, home to over 42,000 people. It's the most populated city in the Metro-East region of the St. Louis Metropolitan Area. Belleville is also located near Scott Air Force Base, and a number of civilian personnel live in the city. Belleville is a French word for "Beautiful City", and that name was chosen for the city by George Blair in 1814 because he thought it would attract new residents. Belleville became a city in 1850. There are many residents of German heritage due to the revolutions in Germany during the mid-1800's which forced many to immigrate to America, and eventually Belleville.
There is a wide variety of architectural style to be found in Belleville. Due to the large German influx, the first homes were simple brick cottages called "row houses." Other architectural style followed including Victorian, French Second Empire, American Foursquare, Gothic Revival, Italianate, Greek Revival, and Queen Anne. 73 historic properties make up the Belleville Historic District, which is listed on the National Register of Historic Places.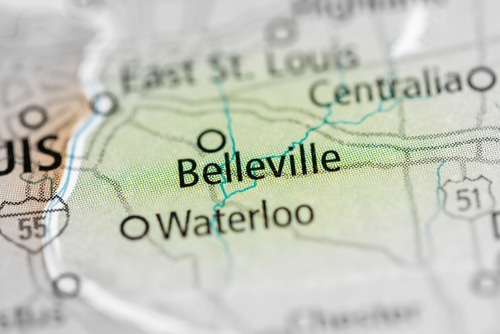 ---
Shopping & Dining in Belleville, IL
Main Street Belleville is where you can find a number of one-of-a-kind shops in the historic downtown area. You'll find a wide range of local boutiques, jewelers, specialty foods, and sporting goods. Thrift store lovers will appreciate TOCO Shop with its resale treasures and friendly staff. And of course, there's Target for your everyday shopping needs.
You certainly don't need to look hard to find outstanding food in Belleville. You'll find BBQ nirvana at BEAST Craft BBQ Co., with their much-talked-about candied bacon and other BBQ delights. And leave it to an Italian restaurant, Papa Vitos, to be one of the best places to eat in Belleville, with their fresh ingredient pizzas and garden salads. For a great local brewery, try 4204 Main Street Brewing Company, with a great selection of local ales and food. Other interesting places to dine in Belleville include The Shrine Restaurant & Banquet Center, The Wine Tap, and Seven Sushi Bar, just to name a few.
---
Belleville, Illinois Parks & Recreation
There are plenty of ways to relax and enjoy yourself in Belleville. The Belleville Parks & Recreation department has a wide range of facilities and programs designed to get you out into the great outdoors. There are miles of beautiful trails throughout Belleville and surrounding communities that are perfect for walking, jogging, biking, or roller blading. There are over 20 parks that feature all sorts of amenities. Belleview Park is a great place to go fishing or to let your kids play on the playground, as well as being the perfect venue for small outdoor weddings. If you want to play some disc golf or softball, then Citizens Park is ready for you.
There are also a number of annual events that keep residents entertained throughout the year. Events include (in order of occurrence) the St Patrick's Day Parade, Ale Fest, Art on the Square, Ainad Shriner's Circus Parade, Wine Dine and Jazz, Labor Day Parade, Oktoberfest, Chili Cookoff, Santa Claus Parade and Gingerbread Walk.
---
Educational Services of Belleville, IL
You'll find a number of outstanding choices when it comes to education in Belleville. The Belleville District 118 oversees 9 elementary schools and 2 junior high schools. There are 2 public high schools, namely Belleville Township HS East and Belleville Township HS West, along with Althoff Catholic HS, and Governor French Academy, which are private schools. Other districts that serve the area are Belle Valley School District 119 and Harmony School District 175.